$

29.95
Dr Wheatgrass Antioxidant Skin Recovery Spray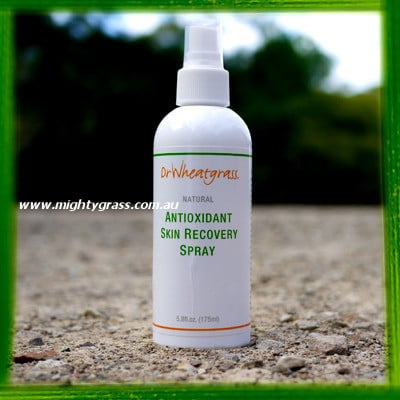 Dr Wheatgrass Skin Recovery Spray Volume Discounts Apply. Please choose your option from the Drop Down Box .
Postage only $7.95 Express post Australia wide.
A handy 100ml pocket size skin recovery spray is on SALE now for $10 !
Molluscum, Eczema,ulcers and many other conditions where wheatgrass has made a substantial difference to the quality of life of numerous individuals.
Find out more about wheatgrass healing from "A Medical Doctor's Guide to Wheatgrass Healing" by Dr. Chris Reynolds.
www.wheatgrasshealing.info
Paraben and gluten free. No animal products or testing.
Product Exp: 175ml bottle Sep 2023
Product Exp: 100ml bottle Nov 2022
Produced in Australia by Wheatgrass Pty. Ltd.