$

37.00
Dr Wheatgrass SuperBalm Multi Purpose Soother & Skin Repair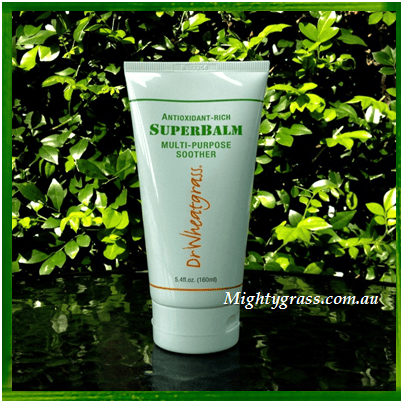 Dr Wheatgrass SuperBalm - Antioxidant Rich Super Balm Multi Purpose Soother 160 mL. Postage only $7.95 Express post Australia wide.
Volume Discounts Apply. Please choose your option from the Drop Down Box.
Did you know that wheatgrass helps the body repair itself? It is also an effective anti-inflammatory (e.g. burns, injuries, TSW), immune-modulator (e.g. shingles, molluscum, stops bleeding) and growth factor activator (i.e. speeds up healing of burns, skin grafts, diabetic ulcers, pulled muscles and more).
Find out more about wheatgrass healing from "A Medical Doctor's Guide to Wheatgrass Healing" by Dr. Chris Reynolds from the the link below
Product Exp Date Feb 2024
Parabens and Gluten free. No animal products or testing. Proudly produced in Australia by Wheatgrass Pty. Ltd.