$

28.50
Dr Wheatgrass SuperShots 25% More Antioxidants Than Freshly Squeezed!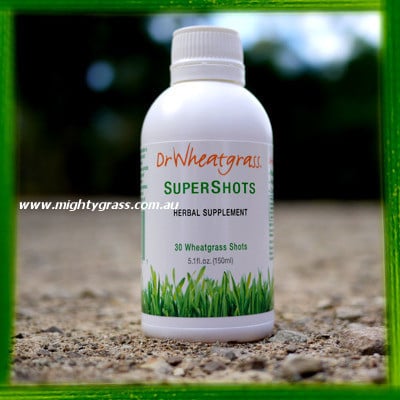 RRP $30.00 our price $28.50 Plus Volume Discounts Apply. Delivery is $7.95 Express Post Australia wide.
Why Bother Juicing? Dr Wheatgrass SuperShots are the world's first wheatgrass in a handy 150 ml bottle. Bursting with concentrated natural antioxidants - 25% more than fresh wheatgrass juice!
Gluten and Paraben free.
Our stock Exp Date Oct 2021
Recommended Dosage
Adults - 5mls per day (1 capful) Children under 12 - 2.5mls per day. For maximum benefit, hold the Supershot in your mouth for a couple of minutes before swallowing.
Produced in Australia by Wheatgrass Pty. Ltd. Volume Discounts Apply Please Choose Your Option From The Drop Down Box Below.